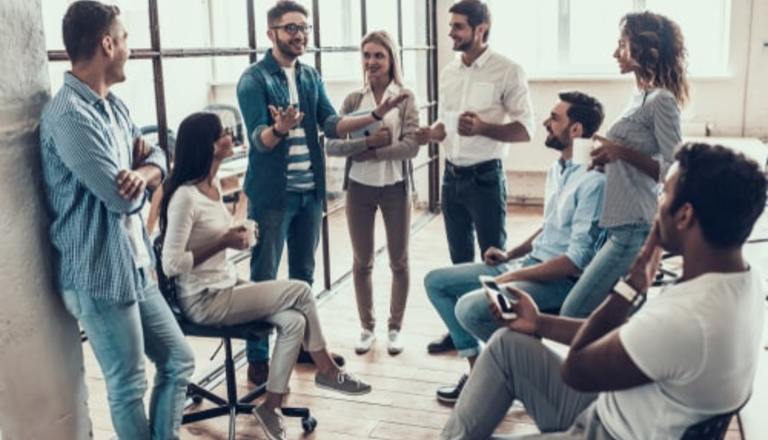 There are fun stories involving coworkers who became Powerball winners, bringing fortune to the workplace.
How many times have you played Powerball with your coworkers in a pool? There's a little excitement, especially when the jackpots swell to huge amounts. Everyone chips in a few bucks, or maybe even $20, and together, the group buys a series of Powerball tickets. Playing Powerball in the workplace is more common than you think. And every so often, once in a great while, you hear stories or read headlines of Powerball winners in the workplace. Today, we'll share a few times coworkers turned into jackpot Powerball stars and brought both fun and fortune to work with them.
The Lucky Humana Inc. Employees in Louisville
Back in 2013, a few of the employees at Humana Inc. decided they would play Powerball. It was a pretty routine venture for the group.And usually between 20 and 30 in total would pitch in $10 or $20. This particular week, 27 information technology employees won the $1 million Powerball prize. But before they split their fortune, the group decided to include two other colleagues who hadn't actually participated that day but had done so in games before. Because these two staff members happened to be out of the office on the day the group bought their tickets, they missed out on the win. But their coworkers proved to be more compassionate and included the two in the big win.
The Christmas Win for 166 Coworkers
It was December 23, 2017, when Peggy Lunsford bought the Powerball ticket with pitched in dollars from 165 of her coworkers. The jackpot was up to $300 million at the time, and the workplace pals were hopeful for a Christmas miracle. Peggy Lunsford realized on Christmas morning that she and her colleagues had, in fact, won $1 million. She waited until that following Tuesday to tell the group. The 166 employees of US Tool Group were heard shouting from around the plant, said Lunsford. Each winner reportedly went home with $6,024 before paying taxes.
Being Nice to the New Girl
A Florida real estate agency team pitched in to play Powerball. And one day, the group of coworkers asked the new girl, a 31-year-old recently hired assistant, if she wanted to join their pool. Unfortunately, the new girl was tight on cash and had politely declined. Later, she realized she was the only staff member who didn't play, which made her feel a little guilty. But when she realized her coworkers had matched five out of six numbers for a sizable win, she really felt awful. But to her surprise, her new workplace colleagues decided to share some of the $1 million with her. Before taxes, each employee would take $83,000.
The Tennessee 20
North American Stamping, North 1 LLC is located in Portland, Tennessee. But the team of employees working for the auto parts manufacturer do so from 13 different cities around the mid-south. And despite the distances between them,this group of 20 coworkers is a tight-knit bunch of friends. And they all pitched in back in 2016 to play a little Powerball. To everyone's surprise, this coworker group won and split a whopping $420 million Powerball jackpot. They were dubbed "The Tennessee 20," and the whole region of the country rejoiced. Some of the wish list spending included a vacation to Italy, paying family bills, college tuition, and a few new vehicles.
Not every workplace Powerball venture can be a winner. And some of those winning coworker stories don't end so positively. Just remember to make copies for everyone who plays and keep detailed records of whoever participates. And have fun! You and your workplace pals could be the next winners!