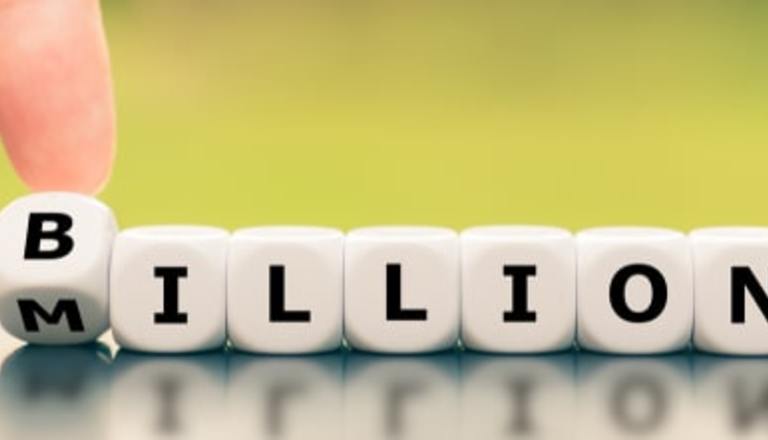 Here is a look back at some of the biggest Powerball jackpots of all time.
There are a lot of crazy Powerball jackpot stories over the years. But what you really want to hear are the stories of the biggest, most incredible jackpot sizes of all time. You're in luck. Today, we'll feature seven of the most significant Powerball jackpot wins that turned average Americans into overnight millionaires.
1. That's Billion with a 'B'
In January of 2016, a Powerball jackpot of $1.586 billion was claimed. Three tickets proved to be winners, one in California, another in Florida, and the third in Tennessee. Yes, that's one billion dollars and another $500 million. Just two weeks prior, the grand prize was only $400 million. But after 19 consecutive Powerball games, with no winner in sight, the value skyrocketed. These three winners made history with this iconic Powerball jackpot record.
2. Wisconsin for the $768.4 Million Win
The third-largest Powerball win happened in Wisconsin back in March of 2019. The single ticket was bought at a gas station, by 24-year-old Manuel Franco, in a town called New Berlin, not terribly far from Milwaukee. The Powerball jackpot was valued at $768.4 million. Taking the cash payout would mean only taking home $477 million, according to officials at the time. But that lump sum is bigger than most jackpot totals!
3. Mavis Makes Her Mark in Massachusetts
Mavis Wanczyk was leaving work one night back in August of 2017. Walking out from Mercy Medical Center, a co-worker brought it to Wanczyk's attention that her Powerball ticket had matching numbers. This co-worker also offered the best advice. Wanczyk signed the back of her ticket on the spot, and the $758.7 million was all hers. And unfortunately for Mercy Medical Center, she never returned to work again.
4. Fourth-Largest Powerball Jackpot
One single ticket sold in Maryland earlier this year worth $731.1 million, making it the fourth-largest payout in Powerball history. The winner would have to choose between the annuity payout over 29 years or the ever-popular lump sum. Before taxes, that lump sum would still shake out to be $546.8 million, which is still a life-changing chunk of change.
5. The Taxes Were How Much?
It was almost Halloween, back in 2018, when the lives of two Americans changed forever. Two winning tickets surfaced claiming the $687.8 million Powerball jackpot, one from New York and the other from Iowa. Before claiming their fortunes, though, these winners, like all winners, are subject to pay taxes. The federal government takes its 24% off the top. Winners usually pay between 24-37%. And don't forget state-level taxation, too. Both Iowa and New York cut into those winnings by another 8-10%.
6. You're Never Too Old to Win Big
One of the largest Powerball jackpots came with a winning Florida ticket back in May of 2013. And the winner was Gloria MacKenzie, an 84-year-old woman who tried her luck at a Publix supermarket. MacKenzie opted for the lump sum payout and walked away with $370.8 million before taxes.
7. The Best Black Friday Gift Ever
Two winning tickets made headlines as the $587.5 million Powerball jackpot hit all-time highs that November in 2012. The drawing for the 28th would make one Arizona resident and one Missouri resident a whole lot richer. And that's more than a million reasons to get excited about Black Friday shopping before Christmas! The lump-sum cash value of that holiday season jackpot was $384.7 million to be split between the two winners.
When those Powerball jackpots go unclaimed, the prize payouts swell. And when the jackpots get huge, more players flock to try their luck. And that's when these blockbuster wins change peoples' lives in a massive way. But even the everyday jackpot amounts are substantial. And most would be just as happy winning a few million.