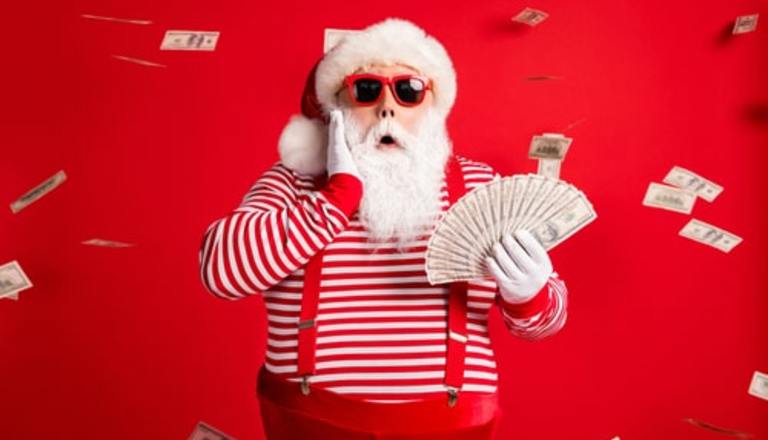 This holiday season, you're looking for new and fresh ideas for family games to play. Here are some of the family-friendly games that are sure to be a hit this holiday season.
It's December, and that means the holiday season is in full swing. You might be looking for new holiday-themed games to play with the whole family this year, too. Whether you're interested in fresh ideas of games suitable for 20 guests or just your immediate family, you're in for a treat with these festive, fun games.
1. Winter Wonderland, I Spy
If you can fit everyone into one vehicle, consider putting on the pajamas and packing the hot cocoa to-go for this fun holiday game. With everyone in the family car, you can play "I Spy" with neighborhood light displays. In most communities, there's always that one house that decorates roof to sidewalk with an array of lights and decorations. So pitstop at these super-fun locations and let the little ones guess what it is you're spying!
2. Jenga, Marshmallow Style
Gather everyone around the table with a big bag of giant marshmallows for some holiday, Jenga fun. Strategically stack and build a structure out of the marshmallows and take turns plucking one at a time, without it collapsing. Have the hot chocolates ready, too, so you can enjoy the marshmallows as you go!
3. Holiday Charades Is a Party Favorite
If you're hosting a get-together, holiday charades is always a hit. Create a list of Christmas-themed words and phrases. Include some of your favorite holiday song titles, too. And just like regular charades, choose your teams for act-out fun. The rules are the same – no talking or signaling with letters. Collect points for correctly acting and guessing the holiday word drawn. The first group or team to reach 20 points wins!
4. Christmas Decorations Bingo Drive
Another fun game to enjoy in the car while out viewing the holiday lights is Bingo. Create cards for the little ones, each with a grid and holiday "things" in each box. Then, as you drive around town or through a light show display, have them check off the boxes as they spot the items. Make it extra special with prizes for everyone when you get home!
5. The Stuffed Stocking Guessing Game
If you need a quick and easy-to-throw-together game to play for the whole family or a large group, the stuffed stocking guessing game is a great go-to event. Grab a stocking from your mantle and while no one is looking, fill it with a few random objects from around the house. Tie up the stocking so no one can peek at the contents. Then pass it around to each player, allowing them to shake, feel, and handle it. Everyone writes down a guess of what's inside. Upon the big reveal, have a laugh and award prizes for your winners.
6. Limbo with a Santa Belly
For the hilarious crowd, consider playing limbo, Santa style! Everyone takes turns stuffing a pillow under their shirts and trying to limbo with the jolly belly of old Saint Nick. You'll need a limbo stick, of course, and two volunteers to hold each end. But as the limbo stick gets lower, the pillow bellies become even funnier, making this a great holiday game to add to the list.
7. Holiday Scavenger Hunts
Whether you're planning to host an event for 20 or just need something fun for the kids, consider having a holiday scavenger hunt. Using only the holiday décor you have around your house, among other household items, create a list of things players need to collect. Use clues and riddles, if you're creative, to make it more difficult to find certain things. As an example, go and hide candy canes all around your house with clues to their locations. Or you could tie in some random items like toilet paper or kitchen spoons to change things up a bit. Make sure you have enough prizes for your winners!
8. Powerball Is Everyone's Favorite
If you need a fun game to play, don't forget to get Powerball tickets this holiday season! Not only is it exciting and fun to play, but it's also life-changing when you win! And you can also use Powerball tickets as prizes for those holiday game-winning adults at your party!
Add some of these holiday-themed games to your list this year! Hopefully, there's inspiration here that can help you make your get-together magical this holiday season.