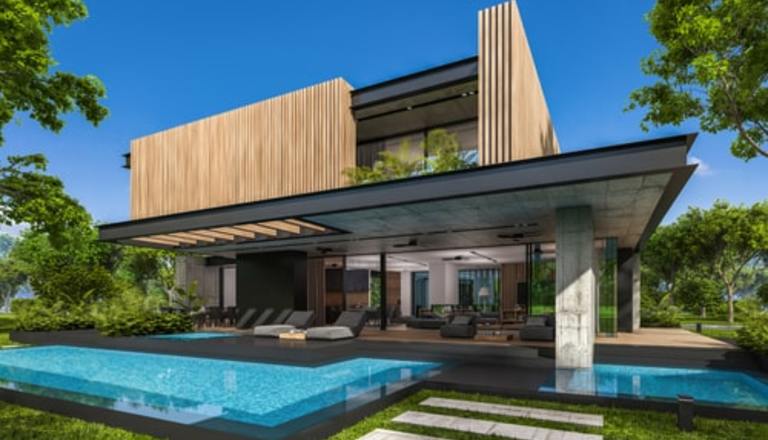 Powerball winners tend to spend their fortunes on exotic homes and expensive vacation properties.
Powerball winners over the years have invested in some pretty crazy and extravagant things. One European man bought real estate on the moon, while another U.S. family bought a water park. But one luxury item that many Powerball winners invest in is a new home. And today, we'll highlight some of the most exotic homes and vacation properties funded entirely by Powerball jackpots. And a couple of them are even up for sale should you be interested.
The Exotic Home & Mountain Estate
One construction executive found himself matching all the Powerball numbers and walking away $180 million richer. One of the first investments he made with his fortune was to buy an exotic home. And this luxury venue was more than just a house. This Powerball winner bought a premium mountain estate, complete with a full-functioning buffalo ranch and saloon. Recent headlines suggest it's on the market right now for a cool $26 million.
The Robinsons' Tennessee Lakeside Home
John and Lisa Robinson hit it big when they scored a $1.8 billion Powerball jackpot. Initially, the couple said during interviews that they really only had plans to pay off their current mortgage and their daughter's college loans. Fast-forward a few months, and it's clear, this Tennessee couple reconsidered their original plans to sit tight on their nest egg. They moved into a lakeside summer home, complete with ten bedrooms, a movie theater, and 320 acres of sprawling Tennessee hills. This exotic home also has its own private lake, adding to its $6.2 million value.
The $40 Million Horse Ranch
We previously shared the story of a South Dakota cowboy who came from humble beginnings before winning the $232.1 million Powerball jackpot. He used his fortune to build his very own horse ranch he called Bismarck Ranch in honor of the local historic trail. About 50 miles north of Rapid City, you'll find this massive 47,883-acre ranch, complete with four luxury homes. The main homestead expands over 6,500 square feet and features five bedrooms and five bathrooms. There are vaulted ceilings, and it includes a barand a movie theater, too. Rumor has it, this property is up for sale right now, too, if South Dakota sounds appealing to you.
HGTV's 'My Lottery Dream Home' Winners Go Big & Go Home
If you haven't tuned in to watch My Lottery Dream Home on HGTV, you should. In each episode, the host, David Bromstad, meets with jackpot winners to help them invest in their ideal dream homes. In one episode, Bromstad heads to Minnesota to help a couple who had recently taken home a $1 million Powerball payout. Tune in to watch episode three of season four to see the luxurious design they build. This suburban home has more than enough luxurious room for the family, including the children, dogs, and cars!
A 23-Room Luxury Estate in Ellicott City
When the Richardsons won half of a $42 million Powerball jackpot in 1994, they knew the first thing to do was build a home. The couple chose to receive a yearly payout of $754,660 after taxes, which was more than enough to accommodate their exotic home. The Romanesque-style mansion stands out in its Gaither Farm neighborhood of $500,000 to $1 million homes. The property features 23 rooms, has a yearly tax bill of $38,394 and costs $21,000 annually for energy. This monstrosity of a home eventually sold at auction for $2.5 million, a couple of million shy of its $2.7 million assessed value.
It's clear, Powerball winners tend to think big when it comes to building or buying a home. You might have exotic homes or vacation properties in mind when you win, too. And who knows, maybe you can buy one of these upscale mansions!