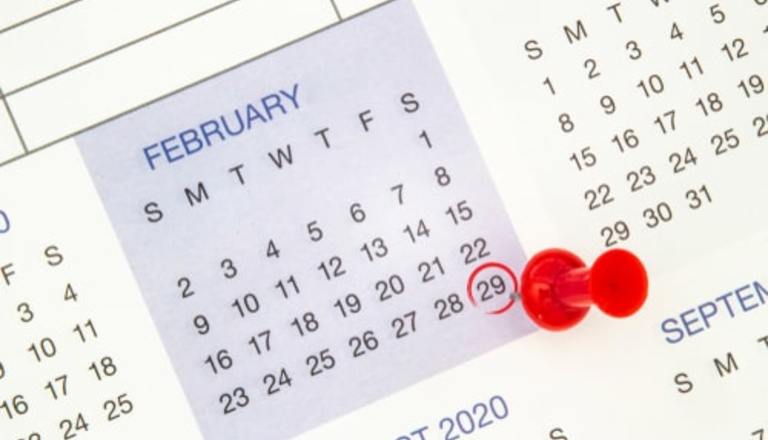 One lucky man won the Powerball jackpot on a leap day whim last February 29th, 2020.
Leap years only circle around once every four calendar years. And during those leap years, February gets an extra day. Even more rare are the chances of that February 29th falling on a Saturday, once every 28 years. The 29th tends to also be a day shrouded in superstition because it's such an anomaly. Drive the odds and mystery even higher when you learn of someone playing and winning the Powerball Jackpot on that rare leap year day. But one Iowa man did just that last year. And it's a Powerball win he won't ever forget. It might even demonstrate just how anyone can be a Powerball winner, anywhere and any time.
Leap Year Luck in Iowa
Shane Saxen was out running errands and thought he'd buy a Powerball ticket. Normally, he admitted in an interview, he would wait until the jackpot was substantial and above $100 million before buying. But for some reason, on this leap year day of February 29th, 2020, he felt compelled to play even at the "marginal" $80 million jackpot. Lucky for Saxen, he matched the first five numbers and missed the Powerball, earning him a $1 million prize. His small town of Correctionville, with 800 residents, was thrilled for him. He said he planned to invest much of his winnings. And winning on a leap year, Saturday just made the win more exciting.
Leap Year Luck in North Carolina
Shane Saxen wasn't the only lucky leap day winner last year. Diane Ellis of North Carolina managed a partial match of numbers to earn the $150,000 prize. She claimed her winnings in Raleigh, and after taxes, took home a little over $106,000.
Leap Year Luck in Georgia (Almost)
Someone almost became $50,000 richer in Atlanta, Georgia, last February 29th, too. The ticket was bought at an Exxon Food Mart. The lucky ticket sold featured four white ball matches and the Powerball match. As of the last update we could find, no one claimed that ticket. Georgia Powerball winners have 180 days to claim their prizes. So this rare, leap day Powerball win went unclaimed.
Leap Year Luck in Louisiana (Almost)
Another $50,000 jackpot went unclaimed from last year's leap year, leap day Saturday game. It was sold at the Food and Fun in Metairie. But no one claimed the jackpot prize. The Louisiana Lottery officials put out a statement and urged the winner to immediately sign the back of the winning ticket and head to the office to claim the prize. No one showed.
New Jersey Offered a Leap Year Day as an Extension
Back in February of 2008, a $9 million New Jersey jackpot was still waiting for someone to come forward. Officials offered the extra leap year day of the 29th for the winner to come forward and claim the prize. This was the second time a substantial jackpot had been neglected within a year's time. Officials were hopeful that by offering up the extra day, it would give the potential winner one last chance to step forward. Unfortunately, the one year (and one day) passed, and another $9 million went back into the system.
Players can learn three lessons from these leap year, leap day Powerball jackpots. Like Shane Saxen, playing Powerball when you normally wouldn't, can pay off in a big way. And the other jackpots that went unclaimed on a leap year, leap day, are a reminder to everyone to always check their numbers. Sign the back of your Powerball ticket and follow through to certify your chosen numbers. In a way, these stories also suggest that any Saturday game can produce a winner, even a rare, one in 28 years, leap day Saturday.