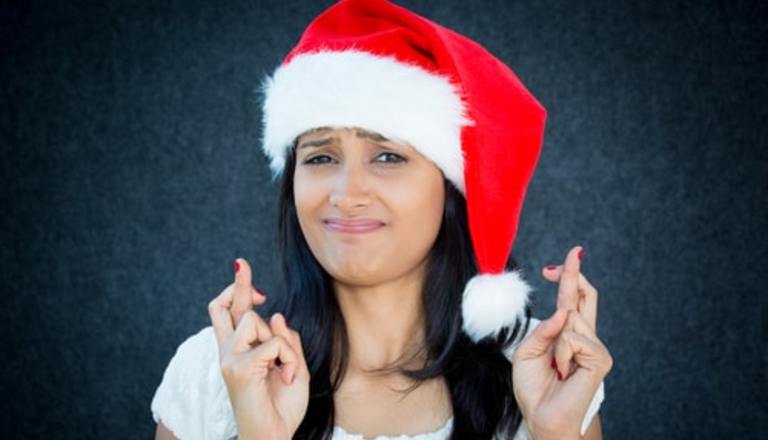 Tis the season for holiday cheer and gift giving. And there isn't a better way to share the love than to give the gift of Powerball tickets.
Whether you consider yourself to be the best and most thoughtful gift-giver in the family or you struggle for gift ideas every single year, there's a chance you sometimes need a little help in the idea department. And even those who usually finish their shopping months ahead of schedule, occasionally forget to buy for that one person. If you find yourself feeling the holiday, gift-giving blues, or in any of these positions and short on gift ideas or facing a last-minute need to find something, turn to Powerball. Giving the gift of Powerball tickets can be an affordable way to inspire a little hope and dream of winning it big. And you might even get lucky with picking the numbers to give the gift of winning it big.
Great for Co-Worker Gifts
You may not have the lofty budget this year for expensive wines or job themed paperweights this year. And your co-workers are probably tired of the same old gift exchange presents, anyway. This year, you can go big by giving the gift of Powerball. And if your co-worker wins big, he might share with the thoughtful guy across the cubicle aisle who made it all possible – YOU!
Perfect Stocking-Stuffers
Sometimes coming up with smaller, stocking-stuffer gift ideas can be tough. So if you have extra room in the stockings this year that need filling, consider Powerball tickets to fill the void. They're fun to give and receive. And let's face it, a little extra Powerball cash for the holidays should it be a winner, would bring all the joy.
The Go-To for the Hard to Buy for Friend
Everyone has that one friend. You know the one. Tough to buy for because she already has everything or tends to be the first one to buy new things on her own. If you're struggling to find the perfect little something for that friend who already has it all, the gift of Powerball tickets can be your answer. Buying a chance at the winning jackpot might just be the gift she didn't think to buy herself.
Ideal Extras to Spruce Up an Existing Gift
As you sit down to begin wrapping gifts, you might find a few recipients a little short on presents. Maybe you have a few piles that need to be spruced up to make them perfect. Consider making a run to your local market or wherever Powerball tickets are sold. Buy a few chances at the Powerball jackpot and use those to top off your gift piles.
Powerball Tickets Are Little Boosts of Joy Inside Holiday Cards
If you're planning on a virtual holiday this year, you may still be sending a few gifts or holiday cards in the mail. Brighten your recipient's day even more by surprising him or her with a Powerball ticket in the mail. It's a chance to win big and guaranteed to put an extra smile on someone's face this season.
Don't Forget to Gift Yourself!
It's been a tough year for everyone. And you've made it to December, with just a few last-minute details to take care of for the holidays. When you're out and about, putting gas in the car and picking up chocolates for the stockings, don't be afraid to treat yourself. Take a moment and buy yourself a chance at the jackpot. Give the gift of Powerball tickets to yourself this holiday season. You deserve it!
This holiday season doesn't have to be stressful, at least when it comes to buying gifts for the friends and family in your life. Take care of everyone on your list, including yourself, by giving the gift of Powerball tickets. They're affordable and won't drain your bank account, and can be a life-changing present for those on your list who end up with the winning numbers.