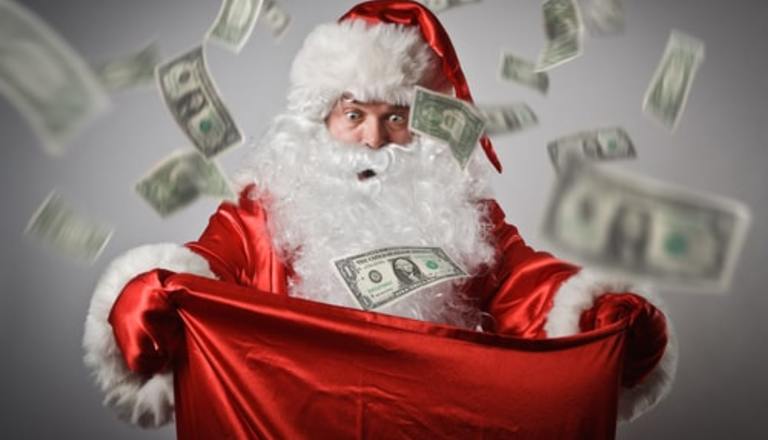 You've probably heard of the big Spanish Lottery at Christmas time? It goes by the name of El Gordo, or "the fat one." It's one of the biggest lotteries in the world, and wouldn't it be nice if you won a jackpot like El Gordo or even Powerball at this time of the year?
If you're thinking of buying more lottery tickets than usual this holiday season, you're not alone.
Why Everyone's Getting In on the Holiday Lottery Action
While Thanksgiving was some time ago for Canadians, we're all busy decking the halls, playing Secret Santa and making sure we give our friends and family a holiday season to remember. You might even be shopping for gifts for those 8 nights of Hanukkah that are coming up.
Whatever you celebrate, the holidays are an expensive time of year, and a little windfall to stretch your bankroll would be very welcome indeed. Even better, a jackpot that would allow you to give everyone something from their wish list and treat yourself to an exotic holiday would probably go down well, too.
It's enough to have us all running out to buy more tickets, isn't it?
It's Time Your Luck Came In
There's a new year just around the corner, and 2019 has been a financially tough one for all of us. So, what better way to end the year off than with the hope of a lottery jackpot win? Isn't it time your luck came in? We think it is, and that's exactly what gets us rushing out to play more lotteries during the holidays.
It's Your Turn to Win the Lottery
If like many lottery fans, you've spent all year playing your favourite games of chance, surely it's time for your numbers to be picked? While there's absolutely no truth or chance of the numbers you pick all year being connected when you finally do win, it's got to be worth a shot?
Take a look at your favourite lottery's chart of hot and cold numbers to see which numbers have appeared the most this year and give them a try. It could just be the Christmas that your dreams come true.
A Gift to Last a Lifetime
Socks? They're overdone.
Soap on a rope or bath bubbles? Boring!
Whether you're buying lottery tickets for yourself or as gifts for the lucky ones in your life, there's always a possibility of changing someone's life forever. Just imagine never having to worry about the bills, the groceries or your holidays every again!
What Would You Do With a Holiday Win?
While more people rush out to buy tickets en masse this time of year, we also like to think about what we'd treat ourselves to if our luck did come in.
For many people, it's the perfect time to book that dream holiday. If it's been a hectic year of juggling responsibilities, you could book yourself some much-needed relaxation time. You don't even have to go far. The Hotel de Glace in Quebec, for instance, is completely carved out of ice and offers you the unforgettable opportunity to eat, live and relax in a luxuriously icy environment, just the way winners should live it up.
If you're more of a thrill-seeker, you could treat yourself to a New Year's heli-skiing trip in British Columbia. Here, you'll find a luxurious heli-ski resort complete with lush lodges and tons of outdoor adventures. You get your very own helipad; a lodge complete with cinema and massage rooms and all the training you need to rock at heli-skiing.
These are just two dreams you could fulfil with a holiday lottery win, whether you prefer to play Powerball, El Gordo or any of the big games.
Why do we play more lottery this time of year? Because the thought of clearing the year's debt and living up the holiday season is just too good to miss out on!
Use the Powerball.ca hot and cold numbers tool to decide which numbers you'll play during the holidays.