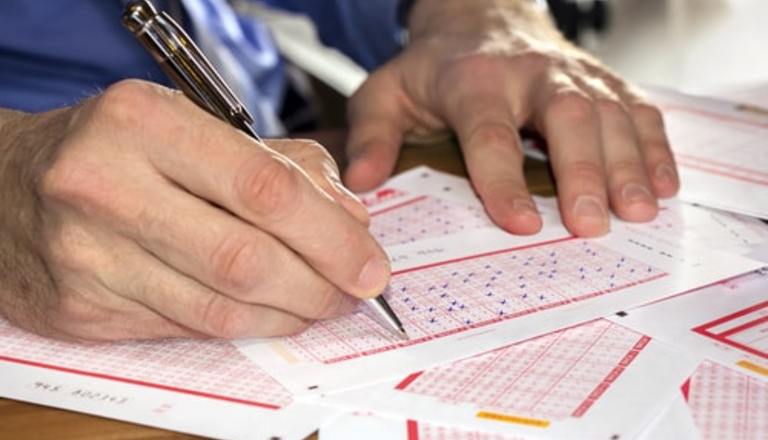 The Powerball game is the biggest in the world but why?
Powerball isn't just a multi-state lottery in the US, but it can also be played in many countries around the world.
Originally Lotto America, the Powerball brand officially launched in 1992 and became the very first lottery game to use two drums during a draw. One drum draws white balls, while one draws the red Power ball.
Powerball offers one jackpot and lots of smaller prizes. The jackpot continues to grow each time it rolls over when there is no winner. There are also several smaller cash prizes up for grabs.
So, What's the Big Deal About Powerball?
The Powerball lottery offers one of the biggest jackpots in the world.
On January 13, 2016, three incredibly lucky ticket holders scooped the $1.6 billion prize – the largest to date.
Each of the ticket holders took home around $533 million. John and Lisa Robinson from Tennessee bought their lucky ticket at a local grocery store, and upon realising they won, opted for a once-off lump sum payout.
Florida winners, David Kaltschmidy and Maureen Smith also chose the once-off payment option, with plans to upgrade their truck, get regular massages and retire.
Marvin and Mae Acosta from California remained anonymous for months after their windfall, eventually releasing a statement of gratitude for their win.
It Doesn't Cost A Lot to Win
With promises of big and instant wins, and basic Powerball tickets costing just $2 per line, it's easy enough to see why this lottery game is so popular. What's more, for an extra dollar, you can choose the PowerPlay option, where you can increase the size of your prize if you guess one to five qualifying numbers.
Even better, the game is super-easy. With the PowerPlay option, the value of any prize you might win for matching four or fewer balls can be multiplied. A random value between two and five is drawn, determining just how much your prize may be multiplied by. If that draw's jackpot is less than $150 million, a 10x multiplier is added to the mix.
Things work a little differently if you match five or six balls with the PowerPlay option. If you're lucky enough to match five white balls (usually worth $1 million), the PowerPlay option doubles your win, so you walk away with $2 million.
PowerPlay does not affect the size of the Powerball jackpot, which remains fixed. Multipliers are not added to jackpot amounts.
You Can Become an Instant Big Winner
While the $1.6 billion prize is an incredible amount, it's quite a bit less than that paid out by the popular Spanish Christmas Lottery, El Gordo. But, the El Gordo prize fund (often in excess of 2 billion Euros) is the total amount of money that is distributed amongst all of the game's prize tiers. Powerball's jackpot, however, can be scooped by one single ticket holder.
There might still be some way to go for Powerball to reach that $2 billion mark, but it can happen, and it can even happen to one ticketholder.
You Need to Play to Win
When the Powerball jackpot reaches staggering amounts, tons of players enter for their chance to win, even a little something. So, it makes sense to buy up as many tickets as you can comfortably afford if you fancy your chances at a piece of the popular Powerball pie.
With unimaginable jackpots, chances to double your winnings (and then some), and the very real potential to live out your dreams unburdened – all for $2 or $3 with the PowerPlay option, it's easy to see why Powerball remains the biggest lottery game in the world.
Make sure you're in it to win it. Check out this week's winning numbers at Powerball.ca.