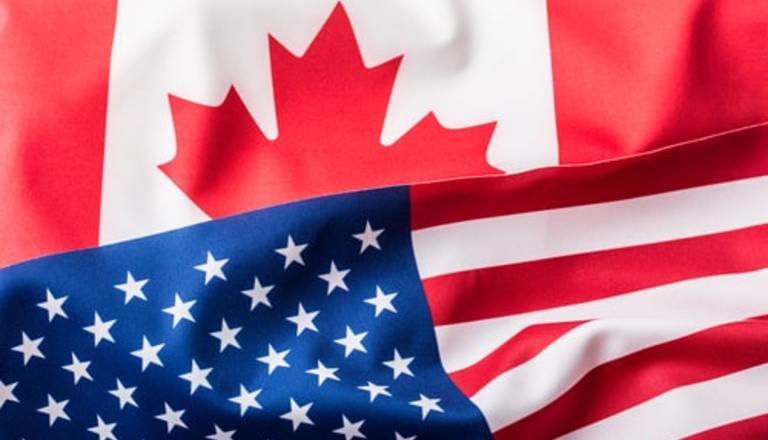 Have you ever wondered if you need to be a US citizen to win the lotto? Maybe you're not sure, as a Canadian, if you can play Powerball. The good news for you is that American lotteries are open to everyone around the world. You don't need to be a citizen of America to play or win their lottery games.
Sure, there are those Americans who get a little uptight when lotto prizes worth millions are won by foreigners, but we all know that there are more than enough prizes to go around. Just consider the biggest jackpot draw to date as the perfect example. In January 2016, a whopping prize of more than $1.5 billion was shared amongst three lucky ticket holders, and there were many, many more winning players from around the globe.
Canadians Can Play and Win USA Lotteries
Plenty of foreigners have won American lotto prizes without even having to step foot across the border. Most of them made the convenient decision to purchase their lottery tickets online, which means no road trips or difficulties with getting lottery tickets in and out of the USA.
What's more, there's excellent news for Canadian lottery players who win. Canadians are not legally required to report lotto winnings to the government tax authorities. As a result, you get to keep what you win and avoid a nasty tax hit. Exceptions do apply, such as when winnings earn interest. But it's still a big difference from the USA where lotto winnings are considered taxable income and lottery officials can withhold as much as 24% of your winnings to go towards federal and local taxes.
Patience is a Virtue, But You Can Win
You know they say that you've got to be in it to win it, and it's true. If you don't try, you'll never win. For one lucky Canadian man, playing the same lottery numbers for nearly three decades paid off last year when he finally hit the jackpot.
Edmonton resident, Bon Truong, scooped the mega $60 million Lotto Max jackpot back in October 2018. It wasn't until the morning after the draw that Bon realised that he had become an instant multimillionaire.
Instead of rushing to claim his newfound wealth, Bon waited a whole 10 months, saying that he felt overwhelmed by the sheer magnitude of the win. Bon told the press that as soon as he saw the winning numbers, he went off to the store to get the clerk to print them, just to make sure. He went back home, numbers in hand, and kept checking them over and over again. Bon's win is one of the largest ever in the history of Alberta lotto players!
While Lotto Max is essentially a Canadian lottery, there are Canadians who have won big US lotto prizes.
It's Legal to Play American Lotteries in Canada
According to the Powerball site, you can legally purchase tickets, play the game and win prizes from Canada. You don't need to be a US resident or citizen to take part.
When you purchase tickets online, the ticket services site purchases lotto tickets on your behalf. A courier service then scans them and uploads them to your encrypted online player account.
Secondary prizes are typically credited to your lottery account as soon as they're received from the lottery operator. If you're lucky enough to win big, you might need to fly to the USA to collect your cash.
As for how much you can win, there's no doubt that US lotteries far exceed anything offered by other lotteries around the globe. While the Spanish Christmas Lottery is often said to be the biggest, with its annual prize of more than 2 billion Euros, there are nearly 200 people who share the prize.
On the other hand, games like Powerball are staged twice a week and have impressive prize pools that aren't often shared amongst as many players.
Many record-breaking jackpots have been won in recent years, with lotteries growing exponentially in the last decade. Amongst those winners are Canadian citizens who can skip the tax and enjoy their prize, without having to go to America to purchase their lottery tickets.
Find this week's Powerball draw numbers at Powerball.ca.