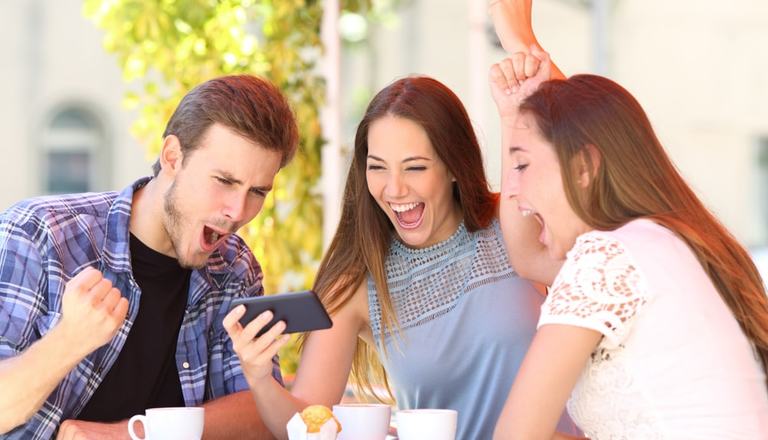 People from around the world play the US Powerball online. In fact, wherever you are, you can enter America's biggest and most exciting lottery game. What could be better than trying your luck at record-breaking jackpots from the comfort of home?
Even if you don't scoop the big pot, you can still become a millionaire with Powerball's secondary prize pools.
How? It's all thanks to the Power Play option, the Powerball's version of a multiplier.
Playing Powerball Online Is Easy
Whether you prefer to play as part of a Powerball syndicate or would much rather go it alone and play your own tickets, playing online doesn't get any easier.
If you want to play with a simple ticket, simply pick your lucky lottery numbers. Alternatively, choose the Quick Pick options and let the computer do the picking for you.
The online lottery agents will take care of all the rest. All you have to do is sit back, hold thumbs, grab your lucky charms and hope your numbers come up.
The Benefits of Buying Tickets Online
Besides the fact that you don't have to hop in the car, fill up and head over the border just to flirt with Lady Luck, there are several benefits to playing the US Powerball online.
For starters, when you head off to the shops to purchase your lottery tickets, there's always the chance of long queues and slow systems. It's time consuming and can be downright boring when you have things to do.
When you buy your tickets online, everything is fast and secure. All it takes is a few clicks of your mouse and you have your numbers.
In fact, avoid the hassle of queuing altogether and create an account at an online lottery site to buy your tickets.
You can play using your desktop computer or even your mobile device, no matter where you are and whenever you feel like it. No travel, no queues and no wasting time.
What's more, online lottery sites give you access to lottery syndicates. These allow you to buy bulk Powerball tickets often at reduced prices.
Powerball syndicates can be created with a predefined number of players.
Some online lottery sites make use of a calculation system to help groups increase their chances of winning. It's fairly straight forward. Combinations and potential winning variations are matched for a draw. Numbers with a high likelihood of being drawn are then suggested to your syndicate.
When you purchase your lottery tickets online, it's also the perfect time to check out past winnings and scrutinise combinations.
This isn't something you can do at the local store when purchasing tickets, but it's certainly easy enough to do online.
Just remember that when it comes to a game of chance like the lottery, there aren't any guaranteed strategies for winning.
Top Notch Online Privacy and Security
When it comes to paying for your Powerball tickets online, ticket sites make use of secure connections so as to avoid unauthorised access by third parties or fraudsters.
With the help of first-class SSL encryption software, these sites ensure that your personal and financial information is kept safe and secure.
What's more, your tickets are kept under strict virtual lock and key and lottery games are regularly audited and proven fair by independent organisations.
Speaking of fairness, there was a time when players tried their luck at guessing winning lottery numbers only to miss out on their well-deserved wins due to lost or misplaced tickets.
When you play Powerball online, your numbers are recorded on your personal account on the site to ensure you cannot lose your ticket.
Once the draw is done and you win a prize, all you have to do is show the proof of purchase, which you can grab off your account within seconds.
Canadians Can Play Powerball Online, Too
While you can buy your lottery tickets online from an American state lottery corporation, you can also opt to purchase tickets through concierge services.
These services buy the tickets on your behalf and keep them in a vault.
If you want to go this route, it's worth doing a little research first to ensure the site is reputable and legitimate. You never want to be caught in a scam!
Time to Get In On the Action
Canadians are both eligible to play and win the US Powerball. Make sure you familiarise yourself with the legal and tax rules before playing and always ensure you purchase your tickets from a reputable online seller.