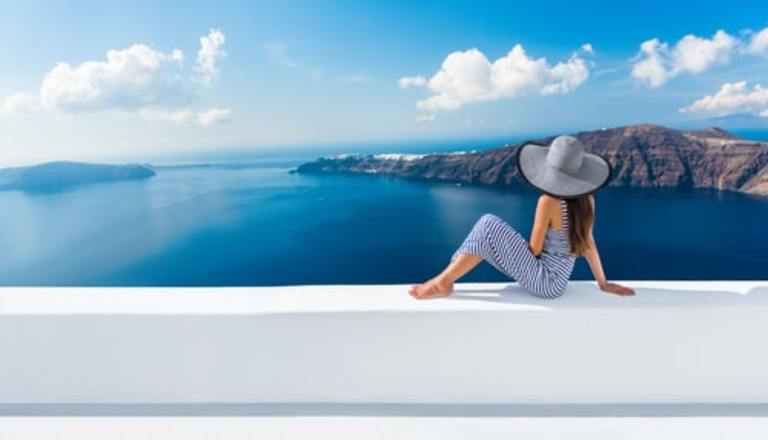 Historically, these are some of the most popular vacations that Powerball winners take when they first win the jackpot.
As you select your Powerball numbers, it might be hard to imagine, at first, just how you'd spend your millions. Winning the Powerball jackpot, regardless of the take-home amount, can finance some of the most popular dream vacations. And while you'd likely have a list of things to buy first and bills to consider paying in full, you probably have a few ideas in mind about travel, too. Most Powerball winners also splurge by taking a trip and usually do so within the first few months of securing their funds. So, where do most Powerball winners head to first? Here are a few hot spot destinations that most tend to flock to when they first win it big.
What Happens in Vegas, Stays in Vegas
Powerball winners often consider their fate upon winning. And feeling lucky in a big way can inspire some winners to keep testing their luck elsewhere. And one of the most popular gambling locations for betting big and testing fate is Las Vegas. Many Powerball winners will jet set to the city of lights and casinos and spend their winnings on lavish hotel rooms, elaborate dining, front-row show seats, and of course, the sizable wagers.
The Aloha State for the Win
Another exotic destination for many Americans is Hawaii. Given the hefty airfare prices and sometimes pricey accommodations, visiting the islands just isn't in the cards for most people on a budget. But when they win the Powerball jackpot, those financial constraints no longer apply. Boarding the plane for sun, beaches, and leis in Hawaii is another top-pick for first vacations among Powerball winners.
Booking All the Cruises
Sometimes, Powerball winners look to get out of town quickly to avoid the added press and publicity of having won a recent jackpot. One of the most popular quick trips booked involves a variety of destination cruises. Some opt for Caribbean vacations, while others head to Europe for a Mediterranean cruise. Wherever they decide to go, it's clear that the week or so on a luxury cruise is the pampering and splurging Powerball winners need first.
The Extended Family Cancun Vacation
It's not uncommon for new Powerball winners to want to share their wealth with family and friends. Many plan a Cancun or Mexican vacation for the entire group as their first order of business. Loading up the kids, grandkids, siblings, and more for an out-of-country experience where no one has to worry about costs is always a great idea.
The European Tour of Iconic Landmarks and Culture
Europe is a popular destination for Powerball winners. Some head to Italy, and others travel to see the Eiffel Tower in person. Many visit Scotland, England, and Greece, as well. Some winners look to take European honeymoons they never could afford before. One Powerball winner was already planning his 20th-anniversary trip when he won. The destination changed to a European tour after he won the jackpot.
The Nature Escape to the Mountains
While beaches and exotic hotels top many of the first vacation spots for Powerball winners, some choose another path. Nature enthusiasts often look to spend their new fortunes on trips to scenic locations in the Mountains. From the Grand Tetons to skiing in Aspen, Colorado, visiting the parks and relaxing with snow capped mountain views are top priorities with those ready to spend their millions.
There are some pretty spectacular vacation spots around the world. From the Maldives islands to the Great Pyramids of Giza, there are countless destinations offering relaxing, lavish, and cultural experiences. Winning the Powerball just makes them more accessible. When it's your turn to win the jackpot, where will you travel to first?