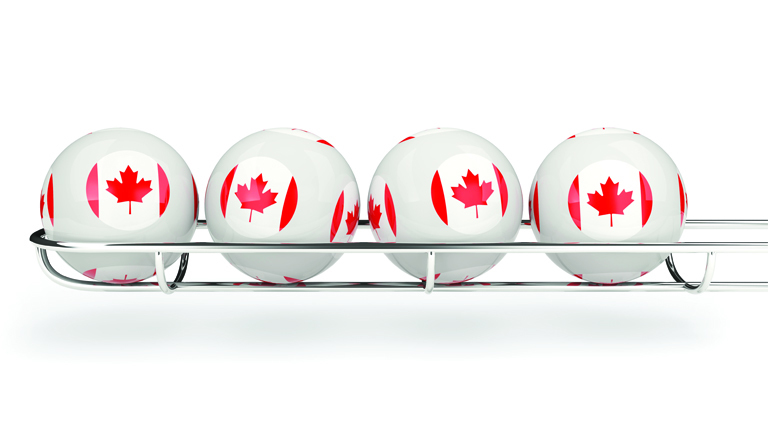 Lottery games can be tracked all the way back to the Ancient Greeks, where "lots" were used to set wagers. By the turn of the 15th century, lotto gaming had taken shape around the world.
With lotto games having been around for a long time, they've developed into different forms in different countries, and Canada is no exception.
A Plethora of Lotto Games in Canada
Canadian lotteries are operated by a number of different corporations. In fact, there are 5, including Atlantic Lottery Corporation, Loto-Quebec, the Western Canada Lottery Corporation, the British Columbia Lottery Corporation and the Ontario Lottery Corporation.
Since there are different corporations for different regions, it's little wonder that multiple Canadian lotteries have rewarded players with lots of wins over the years.
Here's a look at some of the most popular Canadian lotteries.
Lotto Max
To play this game, you get 3 sets of numbers when you purchase your $5 ticket. Each set has 7 numbers between 1 and 49. Lotto Max carries a minimum jackpot of $10,000,000 and has been known to soar all the way up to $60,000,000. All you have to do to win is match all 7 digits.
Draws for Lotto Max are held on Fridays, and a bonus number is always drawn, too. If you miss out on the big prize, there are other lower-tier prizes up for grabs for matching fewer numbers.
Lotto 6/49
This is one of the most popular lotteries in the country. Tickets cost $3 each and you get two sets of numbers. One set is for the jackpot draw and you need to choose 6 numbers between 1 and 49. The other set is made up of 10 numbers and is for the Guaranteed Prize Draw which is worth $1 million.
The Lotto 6/49 jackpot starts at $5 million and continues to roll over until there is a winner. Draws are held on Wednesdays and Saturdays and you need to match all 6 numbers to win the main prize. In 2015, one lucky player walked away with a mega amount of $63.4 million.
Powerball
Canadian residents can play the US Powerball either online or by purchasing tickets across the border. You need to pick 5 white numbers and one red Powerball number. The Powerball jackpot at stake starts at a minimum of $10 million and has broken records for reaching well into the billions of dollars.
Powerball draws are held every Wednesday and Saturday evening and if you don't scoop the jackpot, there are plenty of other tier prizes to be won.
Lotto Daily Grand
You can play Lotto Daily Grand anywhere in Canada and look forward to the opportunity to pocket as much as $1,000 a day for the rest of your life. A ticket costs just $3 and you need to choose 5 numbers ranging from 1 to 49 and a grand number between 1 and 7.
Like most lotteries, you can choose the numbers yourself or opt for the Quick Pick option where numbers are automatically and randomly chosen for you. Draws are held on Mondays and Thursdays.
Lottario Lotto
You can only play this lotto in Ontario, and for just $1 per ticket, you can choose two sets of 6 numbers from 1 – 45. Each ticket is valid for two draws – the Early Bird Draw and the Main Draw.
The minimum jackpots for Lottario Lotto start at $250,000 and roll over until there is a winner.
It Pays to Play Lotto in Canada
Lottery games in the country are famed for offering huge payouts on a regular basis. Lotto 6/49 and Lotto Max, for example, don't guarantee weekly jackpot winners, but there are always large numbers of lower-tier winners.
Canada prizes certainly compete well with other lottery games around the globe when it comes to big payouts and plenty of opportunities to win.
Discover more Canada lottery news today at Powerball.ca.