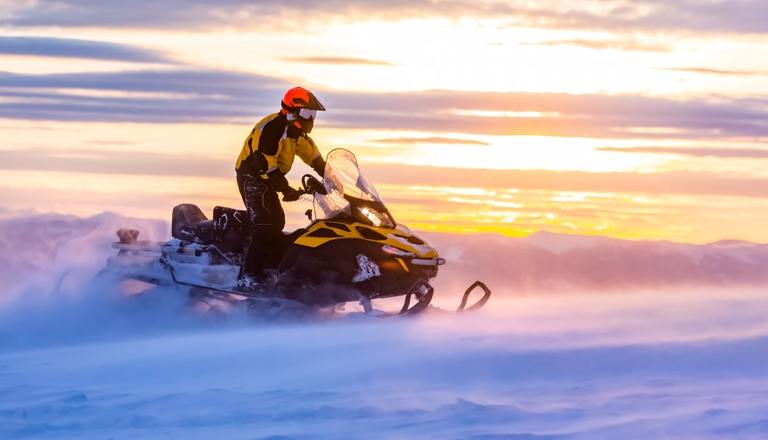 Stopping by his local gas station to fill up his snowmobile, one man proves you can be a Powerball winner before hitting the fresh powder.
Part of what makes playing Powerball so fun is the absolute convenience with which you can play. Are you stopping by your local grocery store to find something for dinner? Grab a Powerball ticket and pick a few numbers. Need a little extra something to add to a birthday gift? Find a Powerball ticket retailer on your way to the birthday party to make the gift extra fun. And for one Wisconsin man, stopping to fill up his snowmobile before heading out to enjoy fresh powder proved to be even more than just a convenience. He scored big with a $1 million Powerball prize.
Filling Up His Snowmobile and Winning Big
Daniel Bellefeuille pulled up to the Marathon gas station in Spooner, WI, all set to enjoy the fresh snow with his snowmobile last January. As he fueled up at the pump, preparing for his recreational ride, he thought he'd also grab a Powerball ticket when he went in to pay. As it turns out, that pitstop for snowmobile gas led to a life-changing Powerball win.
Bellefeuille's Winning Combination
Bellefeuille said in an interview that he'd always dreamed of winning it big. In fact, he said he envisioned a jackpot "ever since Powerball started." And this big-ticket win came at just the right time, as Bellefeuille shared he was approaching retirement. On that fateful day, filling up his snowmobile, Bellefeuille matched all five white balls, but not the Powerball, which translated to a cool $1 million win.
The First Monday Drawing Winner
In August of last year, Powerball added yet another weekday drawing to include Mondays, making it even more fun to play and more convenient to participate. Bellefeuille's jackpot million happened to also be Wisconsin's first million-dollar winner for those new Monday drawings. And the Marathon gas station that sold him the ticket took away their percentage of the pie, $20,000.
Dream Turned Reality
For Bellefeuille, this Powerball win of $1 million was an absolute dream come true. He and his partner, Cathy Stoklasa, plan to use the financial windfall to help finish building the house they'd begun constructing. Bellefeuille, a career construction worker, looks forward to improving his property for retirement, saying, "this will help me finish it." They might also buy a new "but used" vehicle, maybe for hauling around that snowmobile. He certainly won't have any trouble keeping its gas tank full, either.
Convenient to Buy and Convenient to Win
This Wisconsin Powerball winner story just proves how convenient and easy it is to play and win. With the new Monday drawing added to the existing drawing days of Wednesday and Saturday, players have even more opportunities to play. At two dollars per play, it's affordable for practically anyone who's feeling lucky. And with authorized Powerball retailers around nearly every corner, popping in to buy a ticket is super convenient, much like it was for Bellefeuille filling up his snowmobile. So, the next time you're out running errands, think about Bellefeuille. His story might inspire you to pick up a ticket while you're gassing up, too.
The odds of winning a $1 million Powerball prize today are one in 11,688,054. In order to win, your ticket must be purchased before 9:00 PM on the Mondays, Wednesdays, and Saturdays to be included in those drawings. But remember, you can't be a winner of any Powerball prize unless you play. So, the next time you pull up to the gas pump, whether you're filling up your snowmobile like Bellefeuille or just your daily driver, pop into the counter and grab yourself a Powerball ticket. You never know. You could set yourself up for retirement, too!