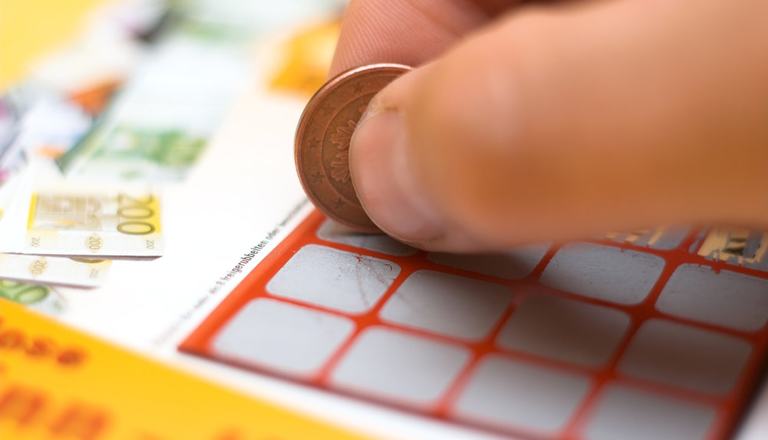 Lottery scratch tickets are similar to, but operated differently from, draw lotteries.
How to play scratch tickets
With scratch tickets, players remove latex coverings from the card to reveal a specific prize, to match one or more symbols, or to mark off a number, letter, or symbol that is provided as the "card's"or "dealer's" number, letter, or symbol.
For example, on a crossword or bingo scratch ticket, you uncover the letter or bingo number to match, and if you have a match on your card, you scratch it off.
In other games, you scratch off a line to see if you have three or more matching symbols.
How are they made?
The care that goes into producing, printing, and distributing scratch tickets is as complicated and meticulous as with draw tickets.
Tickets are produced in batches. That means that each set of tickets for a scratch game has a beginning and end date due to the number of prizes available.
For instance, a ten thousand dollar game may have 5 tickets printed awarding the top prize, tens of thousands of tickets awarding various prize amounts, and hundreds of thousands of other non-winning tickets. The game may end on the due date even if all the prizes, including the top prizes, are not won.
Or the game could end early as soon as the top awards are all won. Or it could end early even if no top award is won and ticket sales are lagging.
Each operator has its own criteria on the length of time each game is scheduled to be available for play.
Security
Scratch tickets are a preplanned type of lottery draw, with the winning and non-winning tickets are determined long before the first ticket is ever sold to the public.
There is no way to manipulate the scratch games due to the fact that grand prize-winning tickets can show up anywhere, at any time. Due to computerized processing and printing, nobody knows where the winning tickets will end up.
Complicated algorithms are used to insure a random distribution of prizes per batch.
Other security measures that are incorporated into their design and layout include that it must not be possible to determine a winning ticket without removing the scratch off covering or otherwise uncovering the symbols and/or numbers.
Also, the hidden corresponding game data under opaque latex must also not be determined without removing the covering.
Compliance
Although each jurisdiction has its own way of operating, the following is a general aspect of how scratch tickets must comply.
Nobody can determine a winning ticket without removing the latex covering that conceals the numbers, symbols, or any validation number or code.
All components of a scratch ticket must provide high environmental resistance to high and low temperature changes, infrared radiation, high humidity, mist, steam, or immersion in water.
If a ticket is damaged in this way, the damage must not be reversible or allow the ticket to be returned to any condition that may resemble and unaltered ticket.
The ticket card stock itself must not allow the concealed numbers or symbols to be viewed or determined from outside the ticket using any high intensity lamp.
It also must not be possible to detect or pick out winning tickets through any variation in density, print registration, or colours of any scratch-off covering or the ticket itself. There will always be a high degree of colour consistency on every ticket.
All type and artwork has to be clear and sharp with no broken characters or identifying marks. The latex covering must have a life of a minimum of 2 years.
The latex covering must provide visual evidence of any tampering by dissolving or permanently discolouring whenever exposed to alcohol or hydrocarbon based products, or if other methods are used to alter or present losing tickets into apparent winning tickets.
The game packaging itself must be sealed at the manufacture with tamper-evident tape or seals, including a warning that the packaging may have been compromised if the tape or seal shows evidence of tampering.
Much work goes into ensuring scratch tickets are secure, that any winning ticket cannot be determined without removed the latex coverings, and that strong measures are taken to ensure random distribution of all winning and non-winning tickets.
So don't be afraid or apprehensive of playing scratch tickets. As prize wins are never announced during the game, you have the old Schrodinger's cat analogy in that you don't know if any of the top awards have been won, so as far as you are concerned, you still have a chance to win one, even if they have all been won already.
So grab your nickel, penny, or dime, and scratch away. You may never know what you are going to win, and with each scratch your anticipation and excitement will grow.