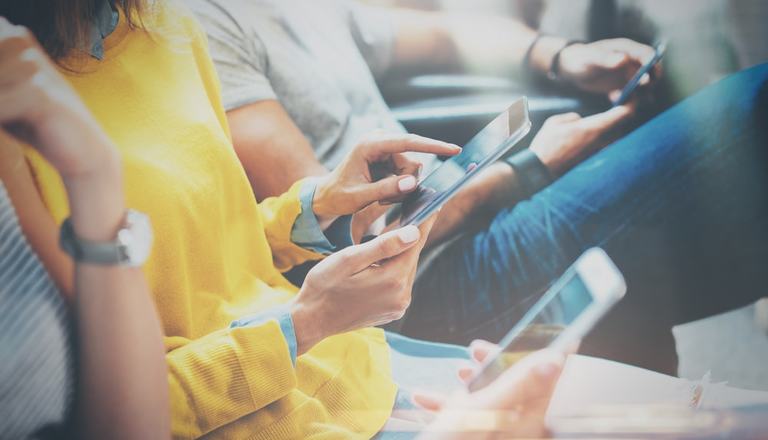 We know we're living in a fast-paced world.
So, it's more important than ever that we get our information as quickly and conveniently as we can. Luckily with the US Powerball, this is a breeze. In fact, thanks to online lottery sites, you can look forward to a whole host of alerts and updates at your fingertips.
Whether you're on your desktop PC or on-the-go with your smartphone or tablet, you can instantly access everything from your tickets and draw results to promotional information and sharable content. It's lottery made easy!
Best of all, all you have to do is sign up for alerts and decide how you want to get them. That's it! Your preferred Powerball site will then automatically send your confirmations of your tickets, alerts as to whether or not your numbers come up in a draw and so much more.
The Benefits of Online Powerball Sites
Powerball websites are a great way to keep up to date with all things Powerball, especially when it comes to your tickets and winning numbers. In fact, once you create an account with a site, there are a number of ways to receive alerts, including:
Email
Get all your information delivered to your inbox, including your ticket numbers. Online, you can sign up for winning number alerts, keep up to date with the latest promotions that give you more ways to win, get the scoop on new products and lotteries, and sometimes even receive coupons to play other games. Managing your lottery alerts is easy, too, all you have to do is opt in or out of the email communication.
Text
You can even sign up for ticket and draw alerts and receive instant notifications right in the palm of your hands. Thanks to text alerts and ticket tracking, you never have to wonder about a thing – all the information is instantly delivered to your tablet or smartphone.
Social Media
We know you're a social person, and so are the lottery sites. You can typically follow your chosen lottery site on platforms like Twitter, Facebook and even Instagram. It's the perfect way to keep up with the latest winners, hottest numbers, syndicate news and so much more. It's also right at your fingertips, just like text, so you can hop onto a social media network whenever you want to, wherever you may be.
Keep Up with the Latest Draws and Payouts
Ever discovered that there's a big Powerball jackpot on offer only to realise it's too late to play?
Thanks to online Powerball sites and handy apps, that never has to happen again. Many sites and apps alike send out alerts once a jackpot hits a certain level.
Again, you have choices and flexibility. You can decide whether you want to be alerted of a jackpot when it changes amounts or when it gets to a particular amount that makes it worth your while to play.
Similar to sites, apps offer varied ways to be notified, such as push notifications, text and email.
Never Lose Your Tickets Again
Studies show that over the years, more than $2 billion has gone unclaimed by lottery players.
Most of the money is left behind by players who only check jackpot numbers or lose their tickets altogether.
With online and mobile notifications, you never have to keep track of your tickets. You'll be alerted if you win even smaller prizes, so you never have to miss out on claiming what's rightfully yours, big or small.
If you like to play more than just Powerball, keeping track of winning numbers and tickets can get confusing.
It's also easy to entirely forget about draw dates, only to find it's too late to claim your prize. Lottery apps and online notifications make checking your numbers incredibly easy.
You can check all the lotteries, hot and cold numbers and more on your mobile device or desktop PC. So, no matter what time it is or where you are, as long as you've got an internet connection, you can access all the information you need in front of you.
There's just one downfall to apps. Some players have missed out on their wins because their app wasn't working. Some apps allow you to scan your physical ticket, but malfunctions with barcode readers can lead to legitimate wins being overlooked.
This just can't happen with Powerball websites. Everything is digital, from your lucky numbers and tickets to the draw results and notifications – keeping track really doesn't get any easier!