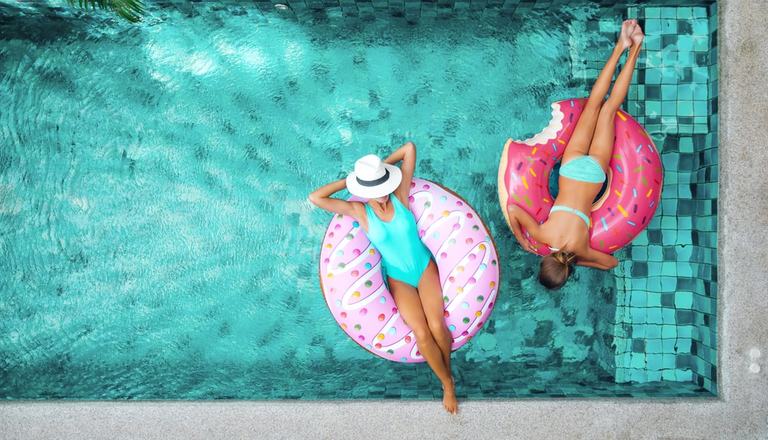 So far, your summer plans are to hang out around a pool, maybe sip a homemade cocktail and catch up on the latest bestseller, right?
Well, what would you do if you won the lottery? Surely your summer bucket list would change. And drastically.
Would you go out and buy a new set of wheels, or head off somewhere exotic? Maybe you'd help out your favourite charity? If you won a mega Powerball jackpot, you could do it all and more.
When we hear amazing stories of ordinary people just like us who turn their summers around after a lottery windfall, we're encouraged to keep playing. But, what do lottery winners do with their money? After all, we want to be in a similar situation one day and we need some inspiration for such momentous decisions.
The chances of winning the Powerball jackpot may be 1 in 292 million, but hey, that doesn't mean we can't try!
Here's how we'd spend the summer as multimillionaires – maybe our list will give you inspiration for yours.
Our Awesome Summer Lottery-Win Bucket List
1. Pack Your Bags, We're Moving
Sure, the summer sunshine is way too tempting to spend indoors packing up all your worldly possessions to move to a bigger and better house. But you can get the movers to do all of that while you head over to your new 10-bedroom mansion, complete with sensational views overlooking a lake, and start deciding just where to position that sun lounger.
2. If There's Water, We're Going to Need a Vessel
There's nothing quite like spending the summer on warm, glistening waters. Once you've quit your job, moved to a new house, and thrown the housewarming party to beat all parties, get yourself a superyacht and spend some time out on the water.
We'd say get a yacht that will fit all your friends and treat them to a summertime they won't forget. In fact, superyachts come with beauty salons, cinemas, disco bars, and even a heliport, so you don't even have to set a toe on dry land!
3. Anchor Your Yacht on the Island
You're probably going to want to touch land again at some point during the summer, so you may as well splash out on your very own private island. Whether it's the Caribbean, Lanzarote or the Maldives, the world is now your deluxe oyster.
4. But, You Don't Have to Lift a Finger
Once you have the mansion, the yacht and the island, you really don't want to lift a finger. So, pay other people to do the work for you. And by "work" we mean fetch the cocktails and keep the hors d'oeuvres coming.
Don't worry about tidying up, cleaning laundry, or even unpacking your luggage – you can hire a team of experienced and eager-to-please staff to do it all for you.
Besides, modern butlers, we're told, are trained to be all-purpose household managers. They can act as your bodyguards, chefs, valets and personal assistants all in one.
5. Tick Something Else Off Your Bucket List
Once you've started settling into the high life, why not tick something else off your bucket list this summer?
Always wanted to get behind the wheel of a race car? Do it!
Go out and buy your dream car or have your dream racing car built just for you and head for the track. Just don't forget your helmet.
Want to try a different type of way to get around? Well, you can buy yourself a horse and all the horse-riding lessons you need. Better yet, invest in a racehorse and spend your days at the track enjoying your "sure thing" of an investment.
Summer Time and Your Living Could Get Easy
What would you do this summer if you hit the jackpot? Whether it's islands, yachts, modes of transport or anything else for that matter, just imagine how much more fun summer could be.
Remember to get your Powerball lottery tickets this week if you want to stand a chance to change your life this summer.