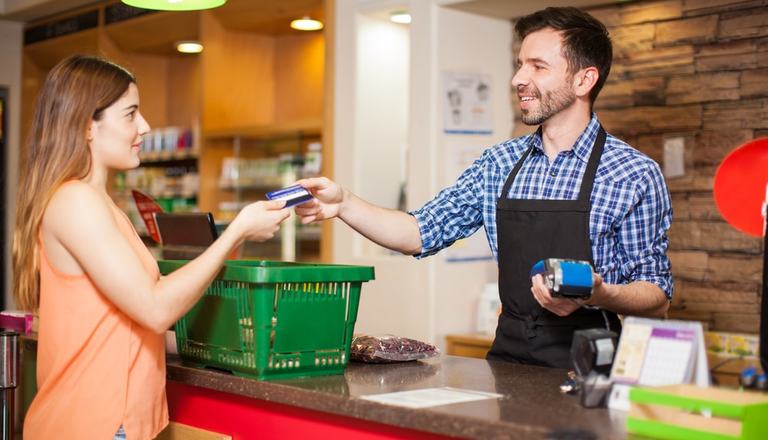 Winning a lottery jackpot is big business. But, have you given any thought to the retailers that sell the winning tickets?
Winning a jackpot like Powerball can completely change your life. It's a life-changing experience for the retailer that sold the ticket, too. That's because they receive a cash award as well. The monetary value of that bonus depends on the jackpot prize and the state in which the store's located.
Different Rewards for Different Retailers in Different States
To date, California boasts the largest retailer bonus. In terms of Powerball, sellers can earn as much as $1 million. In January 2016, for example, a retailer received $1 million in the record-breaking $1.5 billion draw.
In that draw, three lucky people made history when they split the jackpot, and each took home a pre-tax annuity of $528.8 million. One of the tickets was bought in Chino Hills, California, at a 7-Eleven store. That store was awarded a seven-figure bonus for the ticket. The store owner announced that he'd donate a portion of his bonus to charity and make payments to family and employees.
Moving over to Florida, retailers can receive up to $100,000 if they sell a winning jackpot ticket. In the same 2016 record-breaking draw, the Publix Store in Melbourne Beach received $100,000 for selling a winning ticket.
In other states in America, like Tennessee, retailers can receive a bonus of $25,000 if they sell a winning Powerball jackpot ticket. This amount was last paid out later in 2016, when a group of co-workers split a November Powerball jackpot to the tune of $420.9 million.
The store, Smoke Shop, located in Lafayette, has since become a favoured retailer for lottery tickets. That's because many people tend to flock to winning stores - almost like a superstition - in the hope that their ticket will be the next big winner.
Even Liquor Store Retailers Stand to Score
It's even a win-win situation for liquor stores. In June last year, a small liquor store in California sold the winning ticket for the staggering $447.8 million Powerball jackpot. That store received a $1-million retailer bonus all of its own.
Marietta Liquor & Deli in California's Sun City sold the ticket for the 10th biggest prize in American history. The area is mostly a retirement community, but it's also seen a surge in customers vying for the next jackpot-winning ticket.
So, Which Are the Luckiest Locations that Sell the Most Winning Tickets?
While California is certainly a lucky location, we have to talk about Wisconsin.
The north-central US state sold almost 1,500 lottery tickets worth $25,000 and above between 2012 and 2017. The total came to over $406 million. Several locations in Wisconsin sold four of those big winners during that time period, including a store called Fond du Lac, which contributed to the area's reputation as the "Miracle Mile" back in the late 1990s, for being the area that sold the tickets that went on to win several jackpots.
Between 2012 and 2017, Korneli Wisconsin sold the tickets for four massive wins, as did A&I Services, Kwik Trip in Muskego and Oklahoma Liquor in Milwaukee.
As for the southern side of Wisconsin, several Kwik Trips have sold three tickets worth $25,000 or more. In fact, the area of Janesville has its own "Miracle Mile" now, after two stores located on Milton Avenue sold three big tickets and continue to enjoy a surge in sales.
Customers have reported that they know the place is lucky, and so it's the only area where they will buy their tickets. Even when they know that the odds may be slim, they just feel lucky.
Who's the Latest 'Lucky' Retailer?
Just this month, the Massachusetts Lottery announced that a North Adams resident won $1 million in an instant game. The ticket was purchased at the Cumberland Farms store in North Adams. For selling that winning ticket, the store received a $10,000 bonus from the lottery.
In Thomson, Georgia, a lucky person bought a winning ticket worth $10 million at a convenience store. The store owner had no idea he'd sold the winning ticket until the press contacted him. Thompson Convenience Store owner, Tibebu Ameni, bought the store just two months ago. He has reportedly said that he is determined to sell more winning tickets and make more money for his customers.
While it's a big prize, unfortunately in Georgia, store owners only make a flat 6% sales commission.
Where Will You Get Your Next Ticket?
So, where do you plan on getting your next ticket? While some states may seem luckier than others, it's all about the numbers that get drawn.
Canadians can play from the comfort of their armchair, though, without having to cross the border. That's pretty lucky in itself, if you think about it!