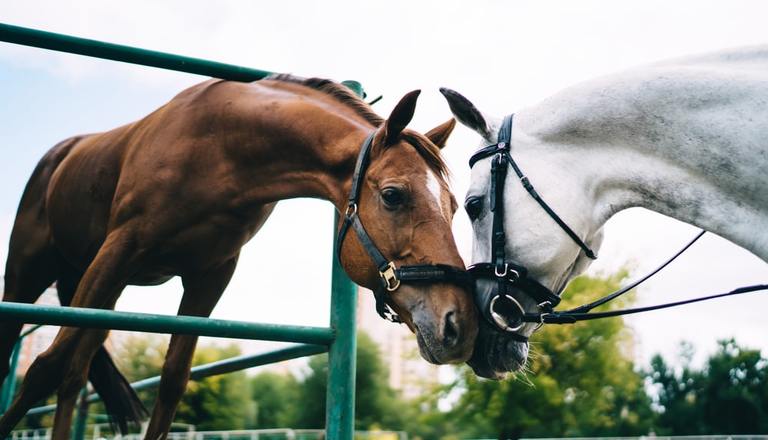 Here are heartwarming stories of Powerball winners who used their jackpots to improve the lives of horses, cats, and dogs, alike.
What would you do with your Powerball jackpot? If you're like most big winners, you'll likely plan a much-needed vacation or pay off your mortgage. And if you're like some Powerball winners, you'll share your newfound wealth with a few favorite charities. It's not at all uncommon for pets and rescue animals to be the unexpecting beneficiaries of such donations. Here are a few instances when dogs, cats, and even horses got the help and lifestyles they deserved because of charitable Powerball winners.
1. Laura Finally Bought Her Daughters Horses
Laura Medlin of Concord's luck finally changed when she realized her Powerball ticket was a big winner. She had been renting a place to live with her two daughters, struggling to make ends meet. And she shared her enthusiastic plans with officials. Having been an avid horse lover since she was a kid, her first order of business would be to buy a house and two horses for each of her daughters. She was thrilled to be able to introduce them to the love and bonding of horses. And those two horses found the loving home of their dreams.
2. Montgomery County Animal Shelter Gets a Boost
In Virginia, a Powerball-winning couple chooses to remain anonymous when they come forward to collect their $1 million prize. But they weren't so hush-hush about how they planned to share their winnings. As avid dog rescue enthusiasts, more specifically, of the Montgomery County Animal Shelter, where they had previously adopted three dogs over the years, they knew just what charity needed the boost. Helping to get the word out about adopting dogs from the shelter, local reporters shared the news of the Powerball-winning donations.
3. A Minnesota Cowboy Establishes Working Horse Ranch
It was 2009 when Neal Wanless in South Dakota had been down on his luck, facing financial destitution, when he became the Powerball winner of the incredible $232 million jackpot. He chose the lump sum payout of $118 million and got to work on his big plans for a working horse ranch. When he was done, his sprawling property boasted four homes, several working horse facilities, outbuildings, and lush pastures for his small herd of horses.
4. 'I'm Getting a Dog and Going on Vacation'
One Sydney-based Powerball winner, who made headlines with his $4.6 million jackpot, wasn't sure what he'd do with all that cash. He was quoted as saying, "honestly, I'm at a loss." But he did say he knew what he planned to do first. This Powerball winner shared with reporters that he intended to buy a family dog and take an overseas family vacation. One lucky Fido got to live out his best life with this Australian family.
5. Humane Society of North Central Iowa Becomes Lucky Recipient
An Iowa-based Powerball jackpot-winning couple donated a whopping $350,000 of their $200 million prize to the Humane Society of North Central Iowa. It was 2010 when Tim and Kelly Guderian took home their lump sum, post-tax amount of $67 million from their winning Powerball ticket. At the time, the Humane Society had been collecting donations to build the new animal shelter. The Guderian's generous donation matched one dollar for every two dollars pledged to help the project.
6. California Goats Get Lucky
A southern California couple who lucked out to win $2 million chose to use their wealth to expand their menagerie of rescued farm animals. They already had an animal rescue before winning prize money. Now, those funds would go to make even more improvements, enhancing the lives of their three horses, flocks of chickens, and 35 goats.
So, when you're daydreaming about your big Powerball prize win, consider how you might enrich the lives of animals. Will you adopt some new pets or donate to organizations responsible for caring and homing pets? Once you decide, you can play Powerball with a renewed sense of purpose, knowing how you'll do a little good after you've won.