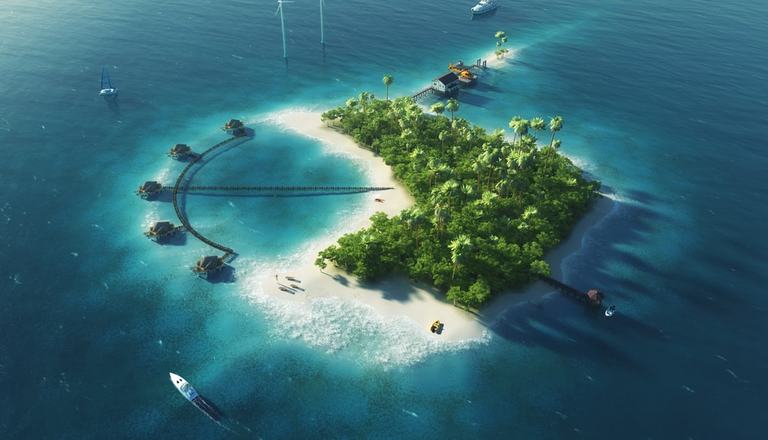 This week's US Powerball has skyrocketed to a mega $750 million. The biggest jackpot in US history right now.
While many people say they would keep their jobs if they were to snag that big pot, we're wondering what you would do with your winnings?
Need inspiration? Here are a few fun things our team would splash out on.
A Home with an Island to Match
After winning such an incredible jackpot, you're sure to find yourself amongst the world's richest people. In fact, you'll be so rich you could buy your very own island and put whatever you fancy on it.
Gold Clubs – Just Because You Can
Stand out from the rest of the crowd on the course with totally OTT gold and diamond golf clubs. It's a pretty fun way to splash the cash, we'd say! Go the whole hog, even, and get a matching gold and diamond encrusted golf cart to get around the course.
Your Own Race Track
Racing is exhilarating. It's not everybody's cup of tea, but hey, with so much moolah, you could build your very own race track and do whatever you like with it. In fact, regularly invite friends along just to have some racing fun.
Your Dream Holiday, or Two
Every lottery bucket list has at least one dream holiday destination on it, doesn't it? Well, with a big win under your belt, jetting off wherever you feel like it, whenever you feel like it, is totally plausible.
You could fly first class, drink as much bubbly as you can handle and stay in the very best accommodation. That's if you don't actually go all out and buy a holiday home in each of your dream destinations!
After winning millions, your way of thinking is bound to change. Just think about all the incredible experiences you could have on your dream holidays.
If you've ever thought of a dream holiday or two and what you'd do, what you'd see, what you'd even eat, you'd be able to do it – for as long as you like. You could even hook yourself up in a hotel full of celebrities.
With so much cash, why settle for luxury when you could live like royalty no matter where you go in the world?
Do Something Totally Off-the-Charts Fun
When we think of the most fun things to do, amusement parks come to mind, and America has some of the best in the world. In fact, an amusement park and the Powerball have something in common. They both provide heart-thumping thrills.
So, should you win $750 million Powerball jackpot, you could easily hop over to the States, or anywhere for that matter, and check out some of the biggest amusement parks in the world.
From everything-Disney in Florida to Brazil's Beto Carrero World and Singapore's sensational Universal Studios, with so much cash in your pocket, the world really is your amusement park oyster.
But First, Process Your Win
Let's face it, hitting the big time is crazy-exciting. You'll want to grab that money with both hands and then some. But slow down. The best thing we can advise is to get all your ducks in a row before you claim your prize.
Take a deep breath. Try to come back down to earth. Then you can make smarter and responsible decisions. Getting a huge amount of money is more stressful than you might realise, and that's when poor decision-making rears its hasty head. Often, lottery winners don't have experience handling this kind of cash, so you need to seek financial advice and assistance from a professional before you start ticking off your fun bucket list.
Don't Give Up the Job Just Yet
Most of us dream of a lottery win. We all want to do fun things we could only imagine right now. We all want to tell our bosses where to stick their job.
Don't do it yet. Even when you win the big time. Just hang in there until the cash clears in your account.
Hang in there, keep adding to your bucket list, and don't forget to play this week's incredibly massive US Powerball!