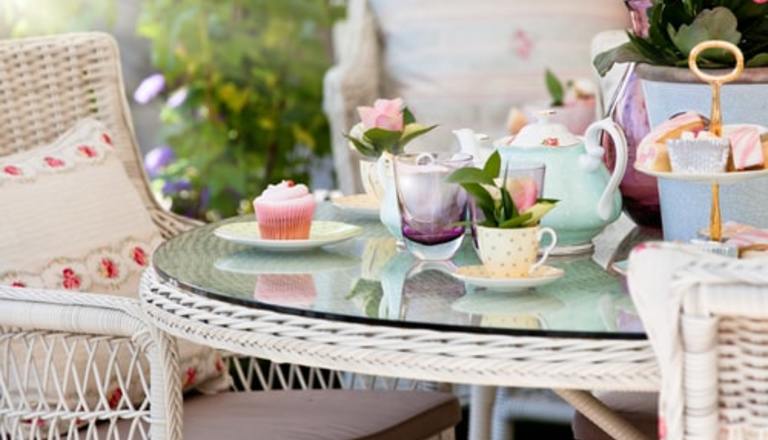 How about you host a tea party to celebrate your lottery win!
Sometimes it isn't the money big lottery winners really are happy about when the results come in, but the things they can now afford to experience in their lives. Operas, concerts, live events, sailing, and many other activities are just waiting for the lottery winner to enjoy. And did you know that some lottery winners actually indulge in their desire to host a lavish and decadent Tea Party?
The Tea Party
Tea Parties, also known as Afternoon or High Teas, are expensive indulgences that incorporate social intimacy with expensive tea, food, cutlery and plates, location, and layout. Afternoon and High Teas were the exclusive privilege of the high society in British social circles and tea was much more expensive than coffee, limiting tea consumption to those who could afford it. It was an expensive way to have a conversation.
Today's tea parties are everything from friends casually getting together, to high stakes business negotiations. But for your tea party, it is going to be a formal and wonderful gathering of your friends and family to celebrate your good fortune and great generosity of being able to give back to those you love and cherish.
To create your own decadent tea party, you will first have to send out invitations. They should be designed by a printing house on expensive paper to show how elegant your party will be. Along with the date, time, location, etc., you should indicate that this is a formal tea party and formal dress is required. You can include in the RSVP a checkoff form to what food items the guest would prefer.
Next, the table settings should start with an off-white tablecloth topped with milk containers and sugar bowls around the table. In front of each person's place setting, there should be a beautiful tea cup and saucer for women and a less decorated one for men, napkin and utensils, teaspoon, and snack plate for food. The table setting should be in a fancy part of your home with lots of space to accommodate all guests.
The food you will serve should consist of typical tea treats such as cucumber, egg, salmon, chicken, ham, cheese, and roast beef sandwiches. Just make sure to cut the crusts off. For the sweet toothed, provide cookies, biscuits, scones and cream, jam, and cakes.
Tea Types
Ensure that there are several types of teas available for your guests. Serve the tea from teapots using loose tea. Never use teabags as the tea in bags is of lower quality. And of course, buy the most expensive teas you can. Your guests will notice the difference and the taste is out of this world.
Some of the teas you can serve are:
Orange Pekoe is a general type of blended black tea that is perfect for any time of the day.
English Breakfast a blended black tea that is stronger than Orange Pekoe and has a more bolder taste
Earl Grey is black tea that also contains Bergamot oil to present a full body tea with a hint of flowery essence
Darjeeling is considered the champagne of black teas as it has a lighter colour and very slight flowery hint and a very delicate muscatel-like flavour.
Oolong tea is not as processed as much as black tea yet has a more bolder taste than green tea but less than black tea
Green tea is a light and fresh tea that has a slight grassy taste due to a minimum amount of oxidation of the leaves
Of course, there are many varieties of black, oolong, and green teas you can serve guests and having a good selection of teas will satisfy every guests' individual taste.
When guests arrive, seat them so they can do a bit of introductory chat while you get things going. Begin to serve, or have served, the tea and food. Join in after everyone has their cups and enjoy great conversation with non-controversial topics. This is a formal tea so topics should be clean and peaceful.
Although most guests won't know how tea etiquette works, you will. Never lift your pinky when you drink your tea. Never sip the tea as you could make a slurping sound as you do. Drink it properly. Don't stir vigorously and never leave your spoon in the cup. Put it on the saucer behind the cup when you are through.
If you don't want to create a tea party you can always invite your guests to a hotel or tea house that holds afternoon and high teas. As everything is prepared by someone other than you, you can just relax and enjoy the fact that your money is providing a great tea get together at possibly a higher price, but with no physical effort or stress on your part. Either way, a decadent tea party is a great way to celebrate your win and entertain your friends and family.