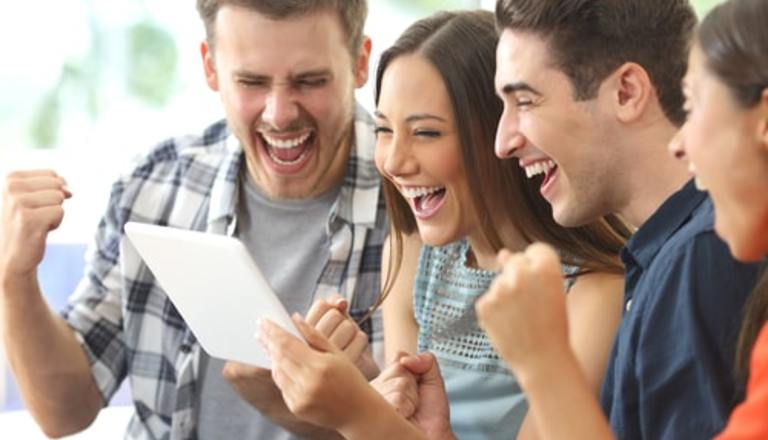 If you've ever felt yourself lusting after just a fraction of a mega lottery jackpot, it's time to consider joining a lottery syndicate.
What Is a Powerball Syndicate?
A lottery syndicate actually gives you better odds of winning. Best of all, you don't need to fork out a whole lot more cash for more tickets. Instead, a group of people pools their funds to buy the tickets together. As a group, you then agree that if any tickets win, you'll split the prize.
As a group, it means you each receive a little less money than if you'd bought the ticket on your own, but you do get better odds of winning at least something.
Let's use an example to explain it. Let's say you get 50 people together to form a lottery syndicate. Each person in the group contributes $2 to the pool. The syndicate manager then buys 50 Powerball tickets at $2 each and keeps them safe until the draw.
Then, let's say your group wins a $50 million jackpot. It means that each member who contributed to the pool receives a million dollars. So, for just $2, you have a 50 times chance of winning for a fiftieth of the prize value's total.
Now that you understand how a Powerball group works, we've given you 5 tips for playing in a group.
Draw Up an Agreement
The first and most important tip we can offer is to draw up an agreement and ask everyone in the group to sign it, even before they participate in buying tickets. Include important information such as how the group will work, whether you'll choose number combinations or quick picks, who will claim the jackpot (since only one person can), and how the money will be split amongst each person.
Appoint a Group Manager
Choose someone in the group to purchase the tickets and hold onto them. This is the same person that will claim the jackpot if you win. You don't want to choose someone who will underhandedly purchase tickets for themselves or hide the tickets in obvious and unsuitable places.
Keep Track of Ticket Contributions
It's important to keep a list of who is participating in purchasing tickets and who gives what. One of the easiest ways to do this is to get everyone in the group to contribute the same amount and then agree to split the jackpot evenly amongst each member. But if you want to, by all means, do different contributions and winning percentages if you must. Whichever option you choose, you still need to keep a log of who gives what – just in case one member claims to have contributed a whole lot after you hit the big jackpot.
Make Sure Everyone Has a Copy of the Tickets
Once the group manager has purchased tickets, it's a good idea to make copies and dish them out to each member of the lottery syndicate. That way, everyone is on the same page and it ensures that the group manager is acting above board.
Be Open About Winning Numbers
This is obvious, isn't it? After a Powerball draw, post or distribute the winning numbers to allow every group member to see how the syndicate fared. It's also a good idea to keep a tally of the prizes you, as a group, win, and how much is still in the kitty for future Powerball tickets.
Play In a Group and Increase Your Chances of Winning
Before you even decide to form a Powerball ticket-buying group, make sure your local laws allow you to do so. You wouldn't want to break the law and turn a fun lottery group into a serious issue. If you do decide to form the group, get that contract in place to protect each and every one of you.
That's all there is to it. Follow the above 5 tips and you're sure to have a happy group of Powerball players and better chances of winning at least a little something.
Find this week's results at Powerball.ca.